As the business world continues to evolve and grow, sustainability factors have become a more important part of the site selection decision process – and Michigan is leading the way in green practices.
Research published by the Site Selectors Guild in June 2021 shows that green energy and sustainability are among the top five trends in business location decisions today, particularly among consumer-facing businesses and public enterprises. Michigan businesses and the broader state community are responding with programs and investments to support impact and sustainability goals.
The state's commitment to green energy practices and social responsibility was confirmed by Site Selection's 2021 sustainability rankings. Michigan was ranked by the magazine as the No. 3 state for sustainability, and Grand Rapids and Lansing were ranked the nation's No. 2 and No. 6 metros respectively on the list.
Utilities set ambitious sustainability goals
Jackson-based Consumers Energy is leading by example with impressive and ambitious sustainability goals. Their leading national plans call for zero methane emissions from their natural gas distribution system by 2030. Their power company has also committed to achieving net zero carbon emissions, ending use of coal and increase clean energy resources by 2040.
In September 2021, Site Selection named Consumers Energy one of the top utilities for economic development, citing the utility's sustainability goals as well as the Consumers Energy Foundation's advocacy and philanthropic efforts during the pandemic.
Additionally, in an April 2022 press release, Consumers Energy and key stakeholders across Michigan announced that they had agreed to a settlement tied to the company's clean energy plan, a sweeping proposal. aiming to stop using coal as a fuel source for power generation by 2025, making the company one of the first in the country to go coal-free.
Detroit-headquartered DTE Energy plans to achieve net zero greenhouse gas emissions through an innovative plan that includes both its suppliers and customers. By 2050, the DTE Gas Net Zero Plan will reduce carbon emissions by 6 million metric tons per year, the equivalent of taking 1.3 million cars off the road.
Private industry invests in a clean future
Global automakers like Ford are creating the blueprint for a future powered by renewable energy. Ford aims to use 100% renewable energy for all its manufacturing plants worldwide by 2035. The automotive leader has identified sources of natural reproduction such as hydroelectricity, geothermal energy or energy wind and solar as the main focus. Ford is also committed to eliminating single-use plastics from all operations by 2030 and achieving its goal of true zero waste to landfill across all operations.
Detroit-based General Motors is also committed to building sustainable cars. Since 2010, General Motors has achieved a 22% reduction in absolute energy consumption, a 13% reduction in water intensity, and a 45% reduction in VOC emissions, these rates being only increase. They also found a 95% increase in the use of renewable energy over the past decade.
Stellantis is also working towards carbon neutrality of all products, assembly plants and other facilities with its Mack Assembly Plant in Detroit, both the future home of two electrified Jeep® vehicles and one of the world's fastest growing manufacturing operations. most efficient and most sustainable in the company.
Midland-based science giant Dow is driven by its company's goal of delivering a sustainable future to the world through its materials science expertise and collaboration with partners. By working with these partners, Dow has reduced its overall emissions by 15% over the past 15 years.
Grand Rapids-based Cascade Engineering is making a name for itself building Michigan's first commercial building to achieve LEED EB Platinum certification. Cascade uses recycled materials whenever possible, aiming to never touch a landfill in its operations, and uses a closed-loop water system.
As a leader in mobility and electrification, Detroit has been chosen as the new headquarters and operations center for ADASTEC, a San Francisco-based company that provides advanced automated transportation platforms for full-size utility vehicles. In November 2021, MSU introduced the Karsan Autonomous e-ATAK bus, which represents one of the largest electric autonomous transit vehicles to roll out on U.S. roads to date.
With the support of a $100,000 grant from the Michigan Mobility Platform of the MEDC in Spring 2020, ADASTEC has partnered with Michigan State University to deploy a full electric Level 4 automated bus greatness on the MSU campus in East Lansing, Michigan. The AV Pilot program was accomplished through collaboration between ADASTEC, MSU, the Michigan Office of Future Mobility and Electrification (OFME), and bus manufacturer Karsan.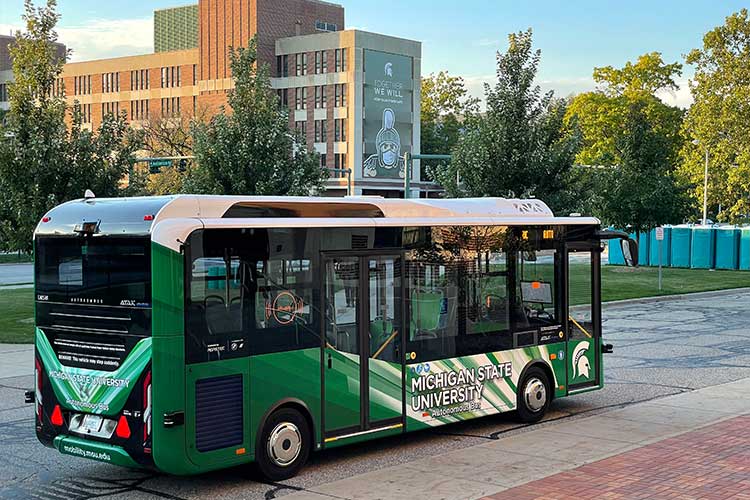 Small businesses have a big impact
Businesses and organizations across Michigan are impacting the economy and the planet through their sustainability initiatives, especially in Detroit.
The Industrial Sewing and Innovation Center (ISAIC) was established as a nonprofit in 2018 with an approach rooted in the city's manufacturing history and a commitment to social and environmental responsibility. Recognizing the impact of the fashion industry on the environment, as being responsible for 10% of global carbon emissions, ISAIC follows sustainability principles that focus on progress and cutting-edge solutions.
Detroit Denim also aims to break the fashion mold by educating consumers about the global apparel industry and adopting sustainable practices. By creating jeans to order, the company does not contribute to the overproduction of clothing; producing better quality heritage garments also reduces customer consumption, allowing Detroit Denim to approach sustainability from all angles.
Also based in Detroit, Andonix aims to increase productivity while eliminating paper-based systems with its products, including its smart workstation. The mobile and web-based solution boasts 10x faster deployment than traditional paper-based workflows, while eliminating waste.
Pivot Materials also strives to reduce waste, making materials sustainable by incorporating natural fibers, like bamboo and rice husks, into traditional plastics. The advanced materials manufacturer's products are currently used in the packaging, consumer products and automotive industries. CEO Kylee Guenther began her journey as a member of the Sephora Accelerate Cohort, where she sought to create an eco-friendly plastic alternative for beauty/retail rigid packaging. Guenther was recently named to Forbes' The Next 1000 list in 2021; The Next 1000 is a year-round initiative showcasing the country's small business owners and new faces who are redefining what it means to start and run a business today. Pivot currently works with 35 different companies, supplying eco-friendly materials which are then turned into sustainable, eco-friendly products such as bamboo-based shipping pallets and the world's first bamboo-based bottles. to a range of businesses around the world, from small startups to multinational corporations.
Supporting sustainability from above
Through Governor Gretchen Whitmer's MI Healthy Climate Plan, the State of Michigan is working to protect the health of Michiganders and put the state on a path to total carbon neutrality by 2050. Governor Whitmer announced in 2020 that state-owned facilities would use 100% renewable energy by 2025 through partnerships with DTE, Consumers Energy and Lansing Board of Water and Light. The purchased energy will expand the utility's renewable energy portfolio in Michigan, rather than simply redirecting existing renewable energy that is already being produced. Additionally, the state's Council on Climate Solutions already helps guide the development and effective implementation of emission reduction strategies, working closely with EGLE's Office of Environmental Justice Public Advocate to ensure equity and representation of underserved communities throughout this process.
This commitment to sustainability and protecting the state's Pure Michigan quality of life, combined with an affordable cost of living and competitive business climate, positions Michigan as the ideal choice for businesses looking to inspire sustainability in their efforts to grow and expand.
This article was last updated on April 20, 2022.
Contact us